This soft and moist gluten-free gingerbread cake is a perfect balance of sweetness and spice and is coated with a sweet buttery glaze that creates a sweet crunchy crust. With a dairy-free option.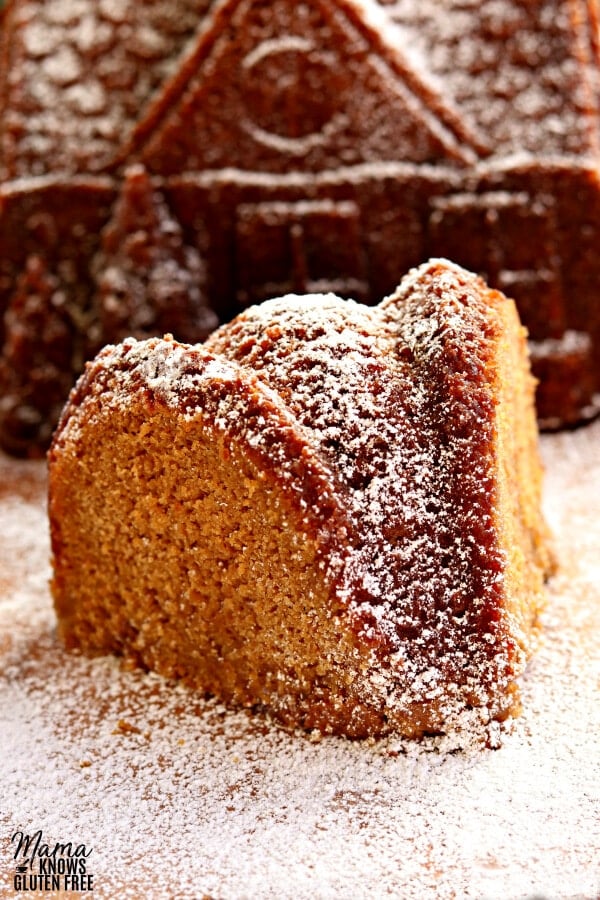 Gluten-Free Gingerbread
I love the smells of holiday baking, especially that of gingerbread. There is nothing quite like the smell of gingerbread cake baking in the oven.
Gingerbread just smells like the holidays to me. It's such a warm and cozy scent. I love all things gingerbread! When I saw this gingerbread house bundt cake pan, I knew I had to make a gluten-free gingerbread bundt cake with it!
Finding a gluten-free gingerbread house is hard, but with this bundt cake pan, you can have your own easy gingerbread house! I found the gingerbread house bundt cake pan at HomeGoods, but you can also order it from Amazon.
I also made this gingerbread cake in a regular bundt cake pan as well to test the recipe. It is just as beautiful in a regular bundt cake pan dusted with powdered sugar.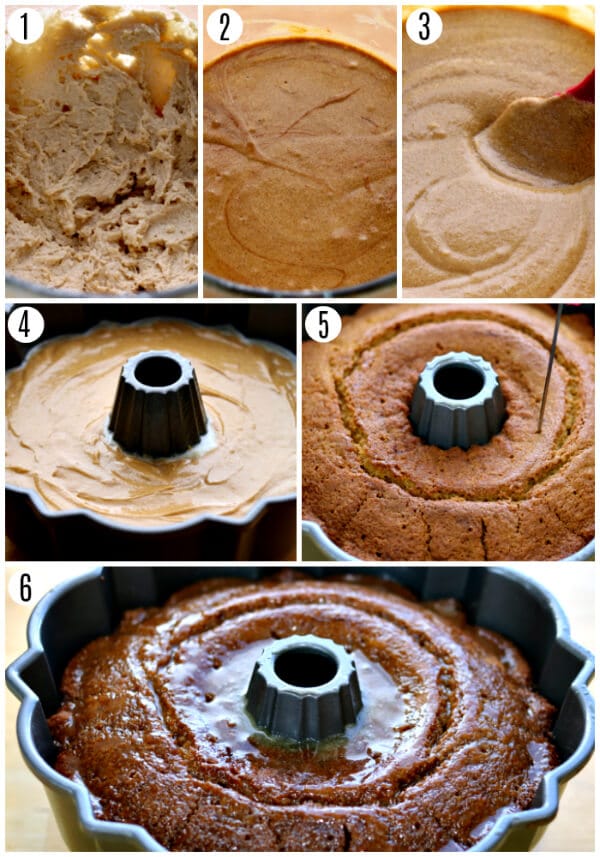 Gluten-Free Gingerbread Cake In A Few Easy Steps
In just a few easy steps, you can make this gluten-free Gingerbread Bundt Cake.
Preheat oven to 325° F.
Grease the bundt cake pan heavily with gluten-free cooking spray or butter. (I like coconut oil) I have a Nordic Ware Bundt Pan.
In a large bowl, cream butter, granulated sugar, and brown sugar together with your mixer. (photo 1)
Add the eggs, molasses, pure vanilla extract, ginger, cinnamon, nutmeg, allspice, and salt and mix until fully combined. (photo 2)
In a medium sized bowl add the gluten-free flour, baking soda, baking powder and xanthan gum (leave out if your flour already has it in it) and give it a stir to combine the ingredients. Pour the flour mixture into the butter mixture and mix until fully combined.
Add the buttermilk to the batter and mix until fully combined. (photo 3)
Pour the batter into the greased bundt pan and bake for 55-60 minutes until a toothpick entered into the center comes out clean. (photo 4)
Once you take the cake out of the oven, poke holes all over the top of the cake. (photo 5)
Pour the butter sauce all over the warm cake still in the pan. (photo 6)
Allow the cake to cool completely in the pan and then invert the cake onto a serving plate. Sprinkle with powdered sugar. Enjoy!
Store in an air-tight container.
Gluten-Free Flour
I like Pillsbury gluten-free flour. Not all gluten-free flours are created equal. You may experience different baking results depending on the gluten-free flour blend you choose.
Dairy-Free Baking
I have also included a dairy-free option for my gluten-free gingerbread cake recipe. My husband, my youngest son, and I are all dairy-free.
Some of my favorite dairy-free alternatives that I like to bake with are almond, cashew or coconut milk. I also like baking with coconut oil or Earth Balance or Smart Balance butter.
I promise it is just as delicious made with the dairy-free butter and dairy-free milk. So, you too can enjoy a gluten-free and dairy-free gingerbread cake.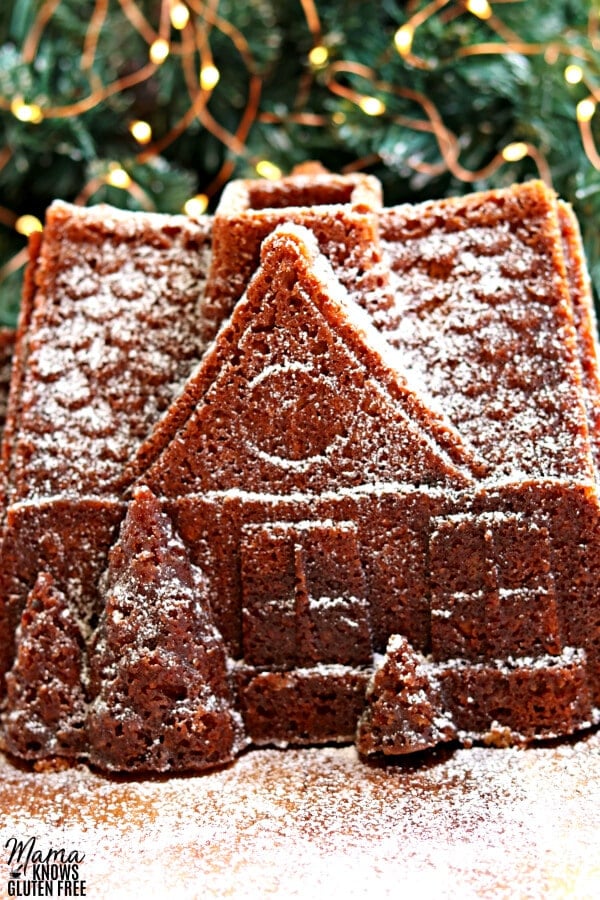 This is a soft and moist gingerbread cake. It's perfectly balanced between sweet and lightly spiced. The cake is coated with a sweet buttery glaze that creates a perfect sweet crunchy crust.
Nothing says holiday baking more than gingerbread. This cake is an easy recipe that your whole family will enjoy! I promise no one will know it's gluten-free.
More Gluten-Free Christmas Desserts To Try!