The best holiday gift ideas for your favorite baker or cook! All of the essentials for making gluten-free baking and cooking easy.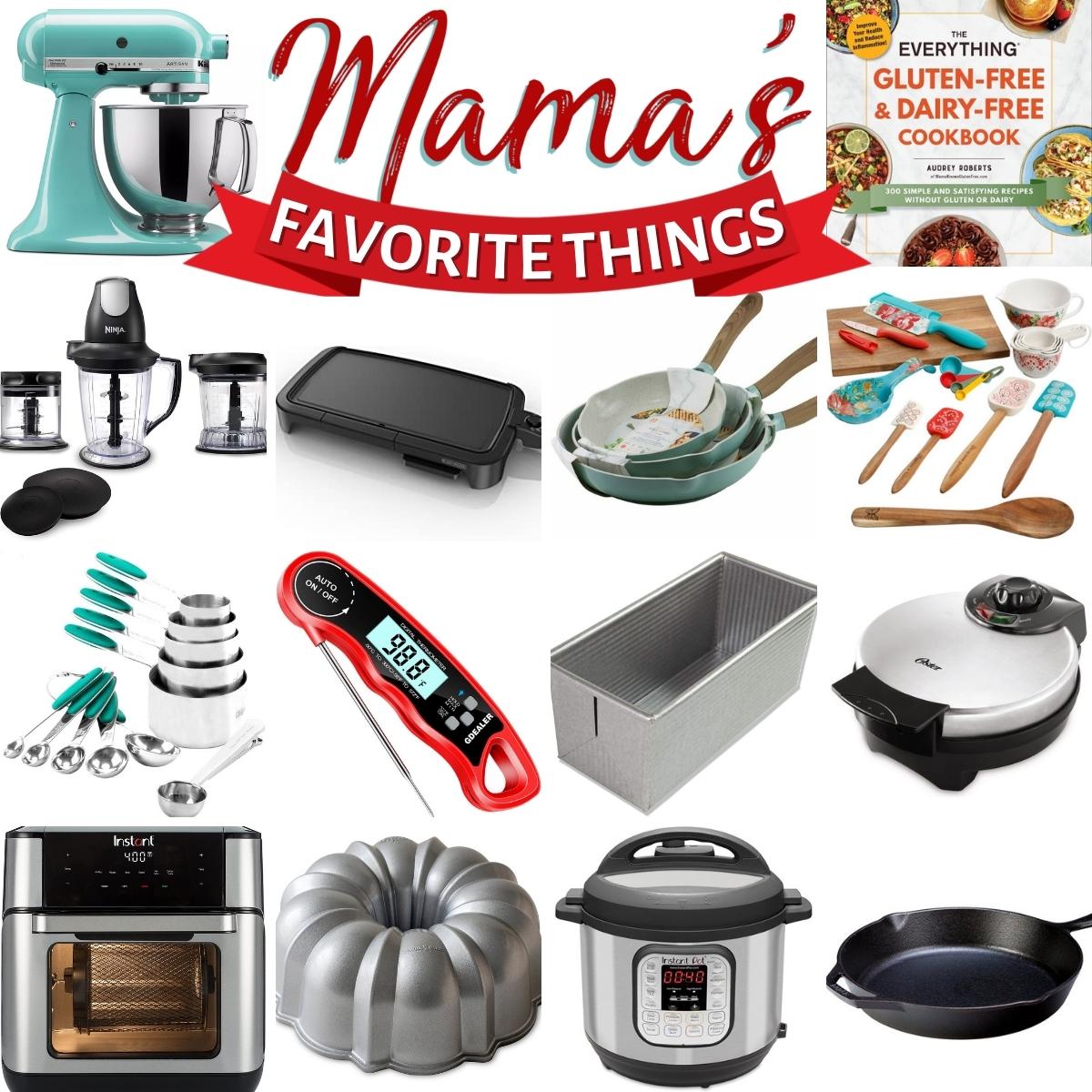 Gluten-Free Gift Ideas
Here are some amazing gift ideas for the gluten-free person in your life or for your own wish list. All of these gifts are items I personally own, and I bake and cook with them every day.
This gluten-free holiday gift guide is not sponsored. These are truly just some of my favorite items that I love! Some of these links are affiliate Amazon links.
Gluten-Free Baking Gifts
Becoming a gluten-free baker means you cannot use your previous baking equipment because of the chance of cross-contamination. So that means for most of us we have had to start over with all-new baking supplies and equipment.
All of these baking gift ideas are my tried and true favorites. I am sharing them so you know that you are making a good investment when you choose to buy these as a gift or for yourself.
Baking Essentials
KitchenAid Artisan Series 5-Qt. Stand Mixer– This is one of my all-time favorite kitchen appliances! My parents gave me my first KitchenAid stand mixer for Christmas many years ago.
I use it so much that I bought another one just for recipe development. I love that it has so many useful attachments. I use the paddle attachment (flat beater), wire whip, and dough hook. Getting a KitchenAid stand mixer is well worth the investment!
Anchor Hocking Glass Mixing Bowls– Glass mixing bowls are a staple in my kitchen. This set has everything you could need and more!
Metal Mixing Bowls– I also love my metal mixings bowls. I have several different sizes and brands. I use them for both baking and cooking.
Metal Measuring Cups and Spoons– These are dry ingredient measuring cups and spoons. I really like the sturdiness of metal measuring cups.
OXO Good Grips 2-Cup Angled Measuring Cup– This measuring cup takes all the guesswork out of getting the exact liquid measured. I have several of these measuring cups.
Glass Liquid Measuring Cups– I have both Pyrex and Anchor glass measuring cups in many different sizes. These are my go-to when I need to heat up any liquid or melt anything in the microwave.
Prep Solutions 1 ½ Tablespoon Cookie Scoop– Using a cookie scoop to make cookies is a game-changer! This is the exact cookie scoop I use and I buy it at Walmart. I always use a 1 ½ tablespoon cookie scoop when baking cookies.
The Pioneer Woman Vintage Floral Gadget Set– I am a sucker for anything Pioneer Woman, especially if it's the color teal!
Wilton Cupcake Decorating Icing Tips– My all-time favorite is the 1M tip! It's my go-to for decorating all of my cakes and cupcakes.
Baking Pans
I have quite a collection of baking pans! I have test baked with a lot of different brands of baking pans and sheets. These are the favorites that I use daily in my kitchen.
Nordic Ware Bundt Pans– Nordic Ware is my favorite brand of bundt pans. They are not only beautiful, but my cakes never stick to the sides of the pans. I make bundt cakes a lot for my family and the Nordic Ware pans really hold up well.
Rachael Ray Yum -o! Nonstick 9-inch Round Cake Pan– These Rachel Ray cake pans are my go-to for baking round and layer cakes. I love the depth of these cake pans.
9-Inch x 4-Inch Small Pullman Loaf Pan– This is the pan that I use to make my Gluten-Free Bread recipe. The Pullman loaf pan has a narrow bottom with steep, high sides and a ridged surface that gives gluten-free bread dough the extra support to help it rise the best.
1.5-Quart Glass Loaf Pan– I bake all of my quick bread, like my Gluten-Free Banana Bread, in a glass loaf pan. A glass pan is what I grew up baking with, and it's still my go-to.
Ceramic Pie Pan– I bake most of my pies in a ceramic pie pan. I have several different brands of pie pans.
Wilton Non-Stick 6-Cavity Donut Baking Pan– This is my favorite donut pan. It makes the perfect-sized cake donut.
Nordic Ware Baking Sheets– I am a big fan of Nordic Ware's baking sheets also. They stand up to high heat and clean up really well.
USA Pan Sheet Pans– I really like the corrugated surface. They are also warp-resistant and clean easily.
OXO Good Grips Non-Stick Pro Sheet Pan Set– I love the design and color of these sheet pans. They really hold up to heat, don't scratch, and clean up beautifully.
Cooking Essentials
Just like with gluten-free baking, gluten-free cooking also means that you cannot use the same cookware, appliances, or equipment because of the chance of cross-contamination.
Replacing cooking essentials is also expensive. I hope that sharing my favorites will help you in choosing the new cooking essentials to give as a gift or for yourself.
MasterClass Cast Aluminium Cookware– These are my favorite pots and pans! I have been able to find them at Marshalls and TJ Maxx. I have tried a lot of brands of cookware over the years and these are outstanding!
I have been unable to find them on Amazon for a reasonable price. There are several brands that are similar, but I have not personally tried them.
Lodge 12 Inch Cast Iron Pan– This southern girl could not live without my cast iron pans! I always bake my Gluten-Free Biscuits, my Gluten-Free Cornbread, and my Gluten-Free Fried Chicken in my cast iron pan.
Instant Vortex Pro 10 Quart Air Fryer– This air-fryer is used daily in my house! I love that it has 2 racks, so you don't have to make two batches. It heats up quickly and makes everything nice and crispy.
It is pretty loud, but it does not take up much counter space. This is good because it has a permanent place on my kitchen counter.
Instant Pot 6 Quart Pressure Cooker– I LOVE my Instant Pot! It also has a permanent place on my kitchen counter. It makes life for this Mama so much easier.
Ninja QB1004 Blender/Food Processor– This is the ultimate blender and food processor set. It also includes a chopper bowl. I use it a lot (almost daily) and it has really held up well.
BLACK+DECKER Electric Griddle– I use this countertop griddle to make my Gluten-Free Pancakes and burgers.
Oster Waffle Maker– This brand has been my go-to waffle maker for years! It heats up quickly and makes perfect waffles every time.
Waterproof Digital Instant Read Thermometer– Having an internal thermometer is essential for both baking and cooking.
Oster Expressbake Bread Maker with Gluten-Free Setting– This is the bread maker that I use to make my Gluten-Free Homemade Bread. I have had this breadmaker for many years. It is so important to have a breadmaker with a gluten-free setting.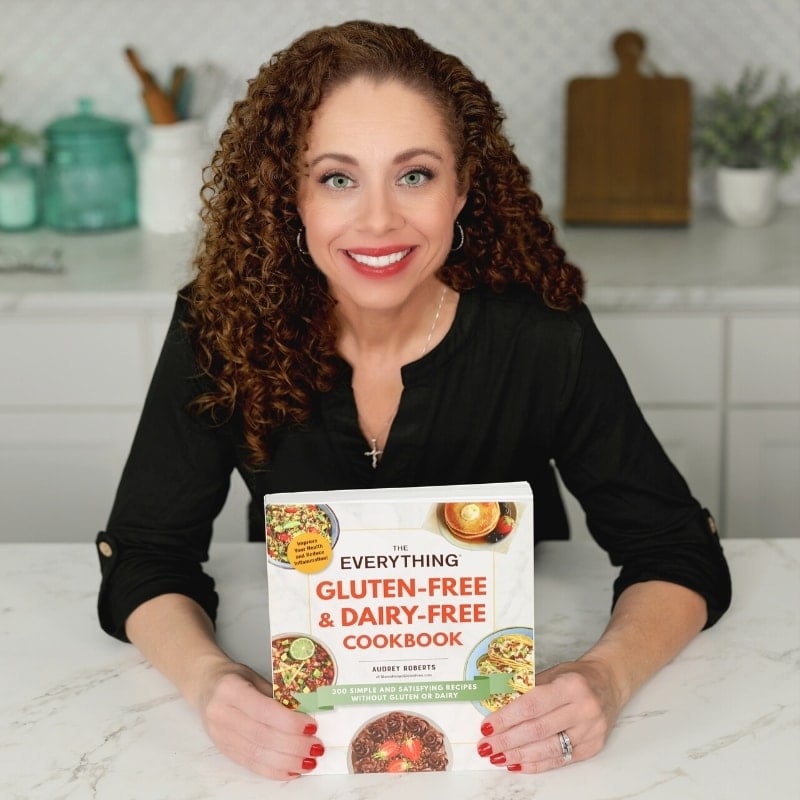 My Cookbook
The Everything Gluten-Free & Dairy-Free Cookbook– This is my first cookbook! It has 300 gluten-free and dairy-free recipes.
The recipes include gluten-free breakfast, lunch, dinner, sides, soups, appetizers, sides, pressure cooker, slow cooker, desserts, and bread recipes.
If you are not also dairy-free, no worries! All of the recipes in my cookbook can also be used with regular milk and butter.
Kitchen Gifts for the Baker and Cook
I hope these gave you a lot of different gift ideas for your favorite gluten-free baker and cook! There is something for all levels of baking and cooking.
Whether they are a beginner or a pro, any of these gifts will make baking and cooking gluten-free much easier!