Eating a gluten-free diet doesn't mean you or your child has to miss out on yummy snacks. We researched and reviewed the best gluten-free snacks that will satisfy adults and kids alike.
Best Gluten-Free Snacks of 2023
Shopping for gluten-free snacks can be overwhelming. Nobody wants to spend their time pouring over nutritional labels or worrying about tricky ingredients. In addition to avoiding wheat, rye, and barley, people with gluten sensitivity also want to avoid foods with wheat-derived ingredients like malt, farro, semolina, farina, and durum. If you're a parent, the stakes can feel even higher.
Fortunately, more and more food manufacturers have started offering gluten-free options, and some are even seeking out third-party verifications to confirm that their ingredients are safe for people with gluten sensitivities. We researched and reviewed the best gluten-free snacks that will satisfy adults and kids alike, so you can spend more time snacking and (hopefully) less time stressing.
Best Gluten-Free Snacks From Target
Good & Gather Organic White Corn Tortilla Chips
For many people following a gluten-free diet, corn chips are a staple. These popular ones from Target's house brand Good & Gather are also USDA Certified Organic.
Favorite Day Gluten Free Chocolate Chip Soft Baked Cookies
If you don't have time to bake your own Gluten-free Chocolate Chip Cookies, then consider picking up these soft-baked cookies on your next trip to Target. They're certified gluten-free, but they do contain dairy.
Good & Gather Wild Berry Fruit Strips
Another sweet treat that's certified gluten-free, these chewy snacks are a real-fruit alternative to super-sugary candy fruit leathers. They're also free from GMOs and artificial coloring.
Brazi Bites Gluten Free Frozen Cheddar & Parmesan Frozen Brazilian Bread
Brazi Bites are a gluten-free take on pão de queijo, a popular Brazilian dish. You'll find them in the frozen food section, and they take 20 minutes in the oven to bake. In addition to being certified gluten-free, they're also soy free (but they do have dairy in the form of cheese). Target shoppers give this snack a rating of 4.7 out of 5 stars from over 300 reviews.
Best Gluten-Free Snacks From Trader Joe's
Organic Fruit Sauce Crushers
These snack pouches can make life so much easier for parents. Kids can eat them without a spoon, and grownups can pack them into lunchboxes, backpacks, and the car without worrying about keeping them refrigerated. They're a great value (at my local Trader Joe's they're cheaper per pouch than the organic competitor at Costco), and also vegan.
Mee Krob Snackers
If you like pad Thai, you will probably like these rice noodle snacks. They have a complex flavor that's savory, yet also sweet and a little sour. The texture is a nice balance between crunchy and chewy.
Organic Chocolate Chip Granola Bites
These yummy snack balls are made with oats, seeds, and chocolate chips. They're both vegan and gluten-free, as well as USDA Certified Organic. We just wish the serving size were a bit bigger.
Organic Dark Chocolate Half-Coated Rice Cakes
We found these rice cakes to be unexpectedly decadent, with a rich chocolate covering and nice big serving size. They're also dairy-free.
Best Gluten-Free Snacks From Walmart
Quinn Peanut Butter Filled Pretzel Nuggets
Most pretzels brands are a no-no for people avoiding gluten, but Quinn has rolled out a whole line of certified gluten-free pretzel snacks. The peanut butter nuggets are particularly popular, and the brand also makes chocolate and cheese flavors as well. You may be able to find Quinn pretzels at other grocery stores.
Great Value Gluten-Free Vanilla Creme Sandwich Cookies
Walmart's house brand, Great Value, makes these vanilla creme cookies that are a gluten-free alternative to Golden Oreos. They're perfect for dipping in milk or coffee.
Veggies Made Great Superfood Veggie Cakes
Pop one or two of these bite-sized cakes into the microwave for a snack, or warm up a bigger batch and make a whole meal of them. The Superfood Veggie Cakes are made from a blend of vegetables like cauliflower, broccoli, carrots, zucchini, and red peppers, all held together with egg. In addition to being gluten-free, they are also soy and nut free. Walmart shoppers give them 4.8 stars out of 5, from over 200 reviews.
Feel Good Foods Cream Cheese Stuffed Mini Bagel
You can bake gluten-free bagels at home, or you can stock up on these mini bagels. They come filled with their own schmear and just need to be baked for 12 to 16 minutes before they're ready to enjoy.
Best Gluten-Free Snacks From Whole Foods
Gluten Free Everything Seasoning Almond & Sunflower Seed Flour
These crispy crackers are great for dipping (try them with Crack Corn Dip or Warm Spinach Dip) or just on their own. They're dairy-free and a great source of fiber, but they do contain nuts.
365 by Whole Foods Market Gummy Bears
Candy can be a frustrating source of gluten, but these gummies from Whole Foods' house brand are both vegan and gluten-free.
365 Everyday Value® Mandarin Oranges
Sweetened with pear juice concentrate, delicate mandarin oranges are a great way to satisfy a sugar craving. Try them as a topping for Greek yogurt or cottage cheese.
GimMe Organic Roasted Premium Seaweed Snack
For people who avoid soy sauce as part of their gluten-free diet, seaweed snacks can be harder to find. But this flavor from GimMe is certified gluten-free, as well as Organic and vegan.
Best Gluten-Free Snacks From Costco
These nut bars are a good value and a great source of fiber, just note that they do contain dairy. The primary flavors are almonds and chocolate, and they are on the more chewy side.
Hippeas
You can find these chickpea snacks at a pretty wide range of grocery stories, but you'll want to get the Costco-size bag whenever you can because they're that good. They're also vegan and Certified Organic, and have a mild cheese flavor with a slight yeasty note that adds to the overall appeal.
Kirkland Signature Extra Fancy Mixed Nuts
When it comes to price, Costco is the best place to shop for nuts. If mixed nuts aren't your thing, the store also carries nearly every kind of nut separately, from pistachios to almonds.
Kirkland Signature Organic Dried Mango
Dried fruits that are free from additives are a good bet for people with gluten sensitivities. If your local Costco warehouse doesn't have the Kirkland Signature brand, then the other brands of dried mango that they carry are usually good too.
Best Gluten-Free Snacks From Amazon
Bada Bean Bada Boom Crunchy Roasted Bean Snacks
These playfully named bean snacks are a good source of fiber and protein and are dairy-free. They come in three flavors: Sea Salt, Mesquite BBQ, and Sweet Sriracha.
Pirate's Booty is a crunchy crowd-pleaser for people who like cheese-flavored snacks. You can find Pirate's Booty at many major retailers, but there are good deals and all the flavors on Amazon. Just note that Pirate's Booty does contain dairy.
These vegan oatmeal cups make for a great snack or a breakfast on the go. Just add milk or water and pop them in the microwave. All the flavors are yummy (I'm a big fan of the Coconut Cinnamon), but the Strawberry Vanilla and Apple Cinnamon flavors are also nut free in case you're packing snacks for a nut-free school or other institution.
Lärabars are another gluten-free snack that are sold by all kinds of stores, including Amazon. All of the bars are gluten-free, and there are a range of sizes and flavors to choose from–my favorite is the Apple Pie.
What to Keep In Mind When Buying Gluten-Free Snacks
A Balanced Diet
It's good to be mindful of the fact that gluten-free doesn't equal healthy, and that what "healthy" means can vary a lot from person to person. This list is designed to help you navigate the packaged food aisle at the grocery store, but fresh fruits and vegetables are the healthiest gluten-free snacks for most people. Some of the snacks on this list are high in sugar or salt and should be enjoyed in moderation.
School Lunch Requirements
If you're looking for snacks to send with your child to school, it's a good idea to check to see if there are any rules about what's allowed. Many schools today are peanut or tree nut-free zones, so if that's the case for your child's school or class, you will also need to select snacks that meet these requirements.
Your Personal Preferences
Everyone's taste buds are different, and that's OK! You don't have to force yourself to eat a snack you don't like. Preferences vary from person to person when it comes to flavors and food textures.
How We Chose the Best Gluten-Free Snacks
We define snacks as foods that are enjoyed in moderate amounts, generally eaten between meals. For the purposes of this article, we focused on packaged foods, although there are many whole and unprocessed foods that make for great gluten-free snacks like nuts, fruits, and vegetables.
To make this list, we carefully reviewed ingredient lists and looked for products with trustworthy gluten-free certifications to screen for gluten-free options. To find the best, we also considered what items are best sellers and commonly found at national retailers, have many positive reviews from fellow shoppers, and are well-liked by other food bloggers and writers. We tried to select flavors that are generally popular with both kids and adults, which is why you won't find any very spicy snacks here, although we know some people do love snacks with some heat. Finally, we sampled a lot of gluten-free snacks.
Why Trust Mama Knows Gluten-Free
Mama Knows Gluten-Free was founded by Audrey Roberts, who has been gluten-free herself since 2010, to help families better navigate life with dietary restrictions.
This article was written by Margaret Badore, a journalist who has covered food, science, and health topics for over 15 years. Her work has been published by Treehugger, Diets In Review, Civil Eats, and Tales of the Cocktail. She's also a mom and has a partner who is lactose intolerant, so she knows how important it is to get all the ingredients right when it comes to feeding your family.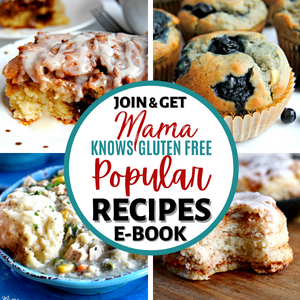 Let's Connect! You can FOLLOW ME on Facebook, YouTube, Pinterest, or Instagram!