Gluten-Free Christmas Sugar Blossom Cookies. A holiday twist to the traditional blossom cookie. Where gluten-free sugar cookies collide with Hershey Kisses. 
Gluten-free Christmas cookies.
Baking is one of my love languages. I especially love holiday baking. Baking Christmas cookies brings back so many fond memories of my childhood.
My mom always baked a huge assortment of Christmas cookies. She spent a whole day of marathon baking making enough for our family and to share with friends. My mom even took cookies on Christmas Eve to the gate guards on the Air Force Base we lived on.  My mom showing love and kindness by sharing Christmas cookies is where I get my love of holiday baking from.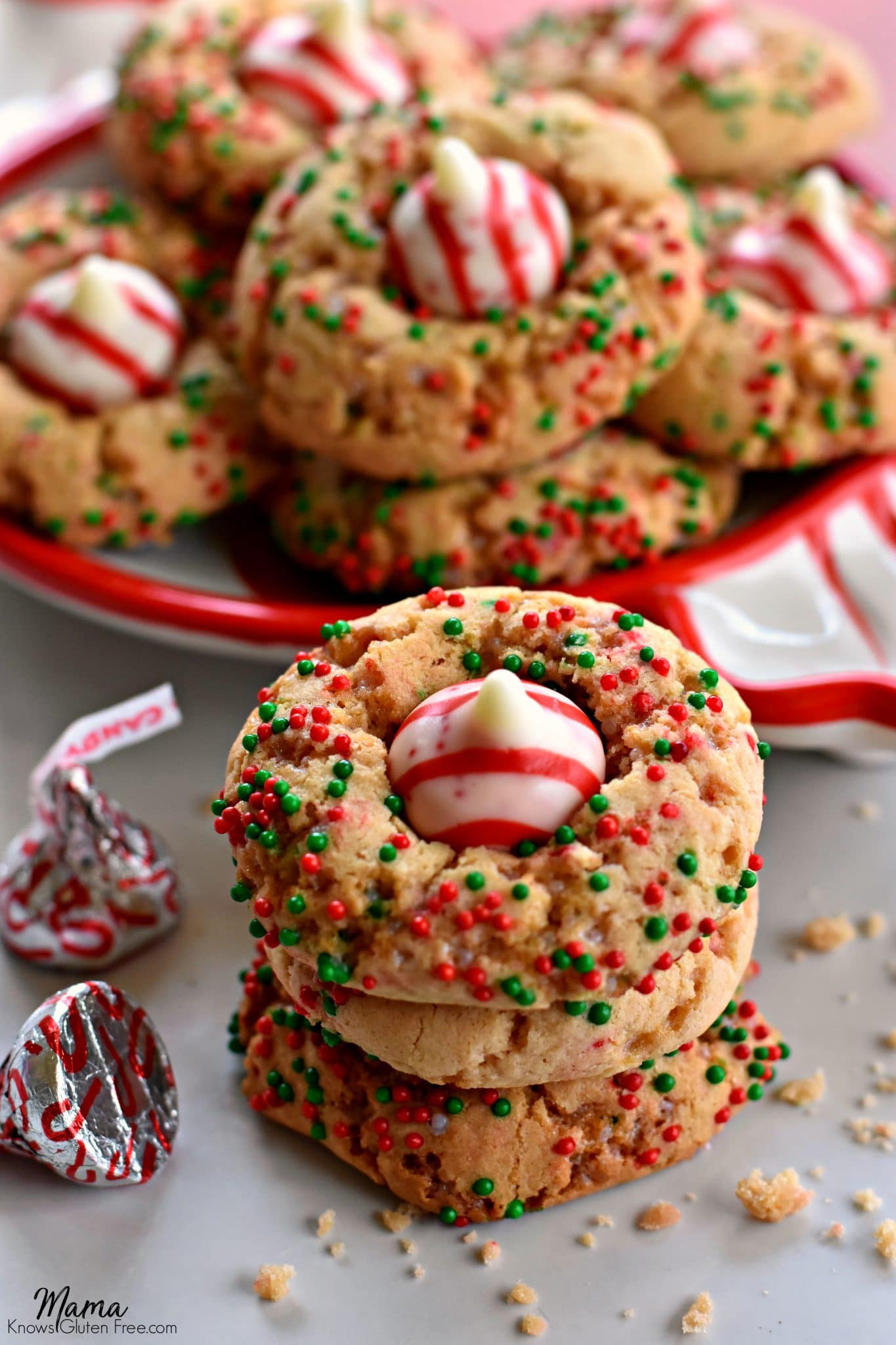 Gluten-free sugar cookies with a twist.
This tradition of holiday baking is now being passed down to my children. Evey year I have a Christmas cookie baking party for my kids and their best friends. They have so much fun decorating their own batch of gluten-free Christmas sugar cookies.
Each child gets their own cookie cutters, and I set up a huge decorating station with tons of different colors and shapes of sprinkles. It is so fun for me to see the kid's faces light up as they creatively decorate each sugar cookie.
Each little masterpiece, ready to be brought to life once baked in the oven. Each child's sugar cookies go separately in the oven, so no one gets their cookies mixed up. Once their cookies have baked and cooled, I place them in a special cookie tin picked out especially for them.
This year I decided that I wanted to try something different for my kid's cookie decorating party. I came up with this version of gluten-free sugar cookies that not only has sprinkles but chocolate also! Because chocolate makes everything better.
I'll still have a huge decorating station, but this year it will also include a variety of flavors of Hershey Kisses too. I can't wait to see how creative the kids get this year with these Gluten-Free Christmas Sugar Blossom Cookies.
Try my other holiday cookie recipes. Happy holiday baking!

Gluten-Free Christmas Sugar Blossom Cookies (Dairy-Free Option)
Gluten-Free Christmas Sugar Blossom Cookies. A holiday twist to the traditional blossom cookie. Where sugar cookies collide with Hershey Kisses.
Cook Time
1
hour
33
minutes
Ingredients
1/2

cup

vegetable shortening

3/4

cups

granulated sugar

1/4

cup

firmly packed brown sugar

1

tablespoon

milk

dairy-free use your favorite non-dairy milk. I like cashew, coconut or almond milk

2

large eggs

room temperature

1

tablespoon

pure vanilla extract

2

cups

of gluten-free flour mix

I like Pillsbury Gluten Free

1/2

teaspoon

xanthan gum

leave out if your flour has it already

3/4

teaspoons

baking soda

3/4

teaspoons

cream of tartar

1/2

teaspoon

salt

gluten-free sprinkles

Hersey Kisses

I used candy cane-which is very minty, so if you are not a candy cane fan please use your favorite gluten-free flavor. For dairy-free use your favorite dairy-free chocolate
Instructions
Preheat oven to 350 degrees.

Combine shortening, granulated sugar and brown sugar in large bowl; beat at medium speed until well blended. Add milk. Beat in eggs, one at a time. Add vanilla.

Combine flour, baking soda, cream of tartar and salt in a separate large bowl. Mix into shortening mixture until well blended.

Scoop 1 tablespoon of dough and roll into a ball.  (I used a cookie scoop.)

Roll cookie dough ball in the sprinkles and place onto a parchment-lined baking sheet.

Bake for 12-14 minutes. (Please watch your cookies because every oven is different.)

As soon as you bring the cookies out of the oven place the Hersey Kisses in the center of each cookie.

Allow to cool completely or the Hersey Kisses will flatten.

Store in an airtight container.

Enjoy!
Recipe Notes
Mama says, "Check all of your labels!"
0