These easy gluten-free recipes are the most popular recipes from 2019. The recipes also have a dairy-free option and some have a Vegan option.
The Most Popular Gluten-Free Recipes of 2019
I love sharing the gluten-free recipes that I make for my family! All ten of these recipes are some of my family's favorite gluten-free recipes as well.
The top 10 list is full of gluten-free baking recipes. That was not a big surprise to me since baking is one of my love languages.
I'm going to start at number ten and work my way down to my most popular gluten-free recipe. I hope you enjoy each of these gluten-free recipes as much as my family does!
Can you guess which gluten-free recipe will be number one?

10. Gluten-Free Cinnamon Rolls
These Gluten-Free Cinnamon Rolls are soft and gooey. Swirls of cinnamon and sugar layered in a soft gluten-free roll topped with a vanilla glaze. The recipe also has a dairy-free option. These beauties take a little time to make, but I promise they are so worth it!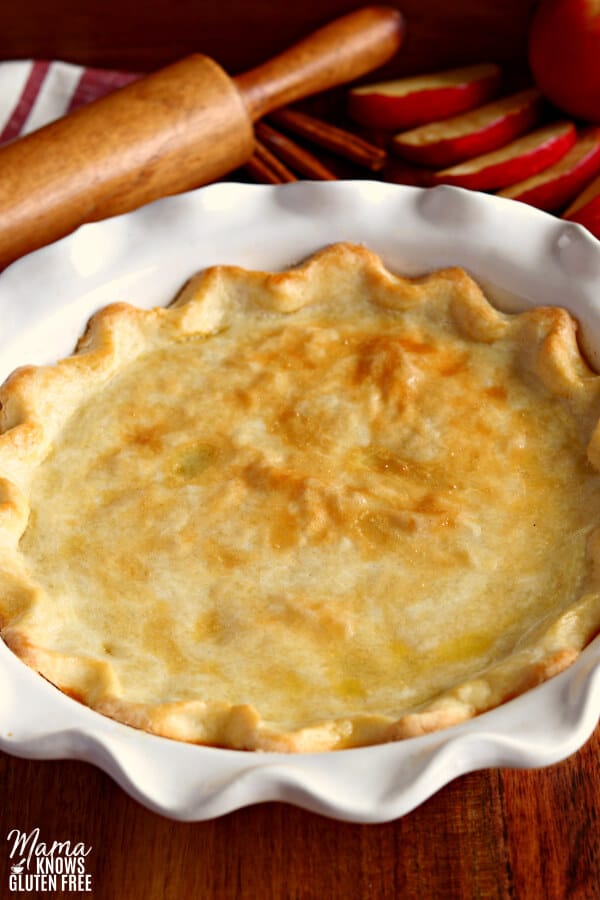 9. Gluten-Free Pie Crust
Everyone should have an easy Gluten-Free Pie Crust Recipe! In just a few easy steps, you can have a tender and flaky pie crust ready for your favorite filling. The recipe also has a dairy-free option.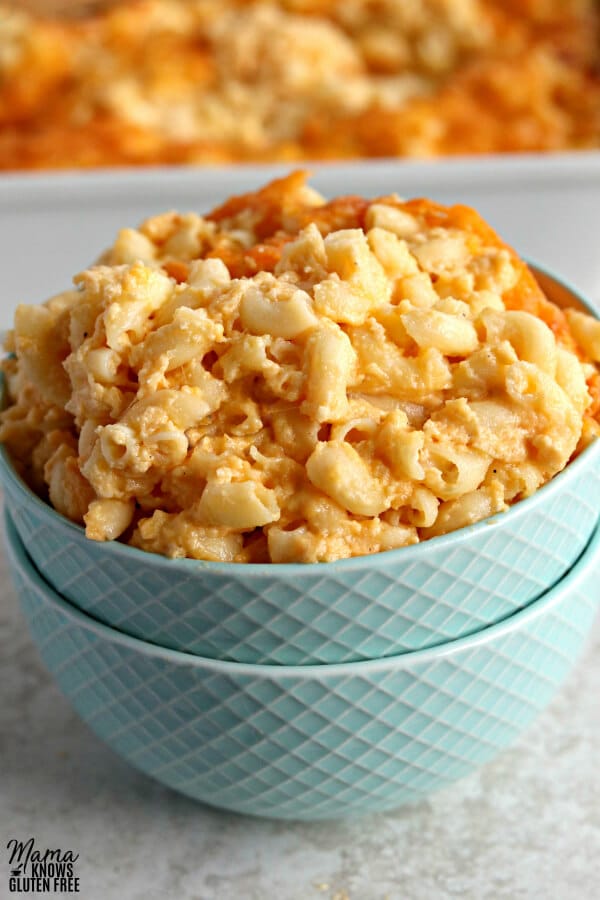 8. Gluten-Free Southern Baked Macaroni and Cheese
This Gluten-Free Southern Baked Macaroni and Cheese is super creamy and loaded with three kinds of cheeses. It's the best gluten-free mac and cheese that is baked to perfection in just 20 minutes. I'm working on a dairy-free version of this recipe, but I'm not quite there yet.
I was super happy to see this recipe make the top ten. It's the only gluten-free dinner recipe on the list.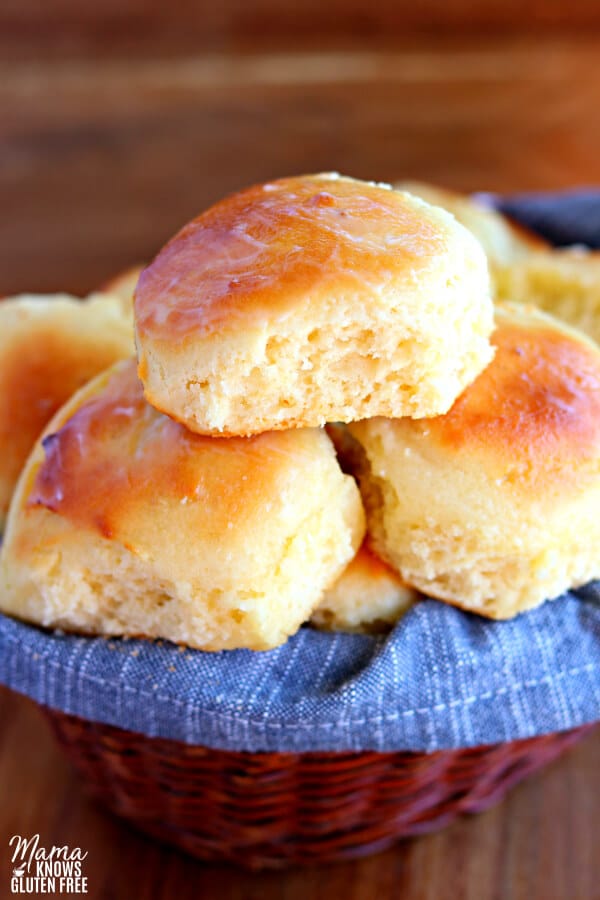 7. Gluten-Free Dinner Rolls
My Gluten-Free Dinner Roll recipe is what I bake for my family during the holidays and special occasions. They love the soft and sweet pull-apart gluten-free rolls.
This easy gluten-free yeast roll recipe is made in about an hour and a half. They are so worth the wait!
The recipe also includes a dairy-free option as well.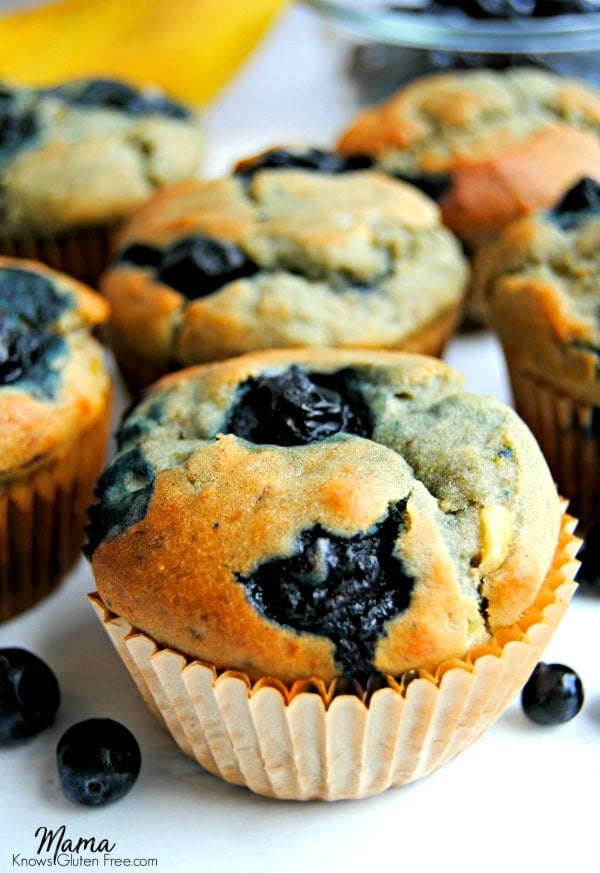 6. Easy Gluten-Free Blueberry Banana Muffins
Muffins are one of my favorite things to bake for my family. This recipe for Easy Gluten-Free Blueberry Banana Muffins is award-winning!
It's a super easy recipe with no mixer required. These blueberry banana muffins are super moist. The recipe has a dairy-free and no refined sugar option.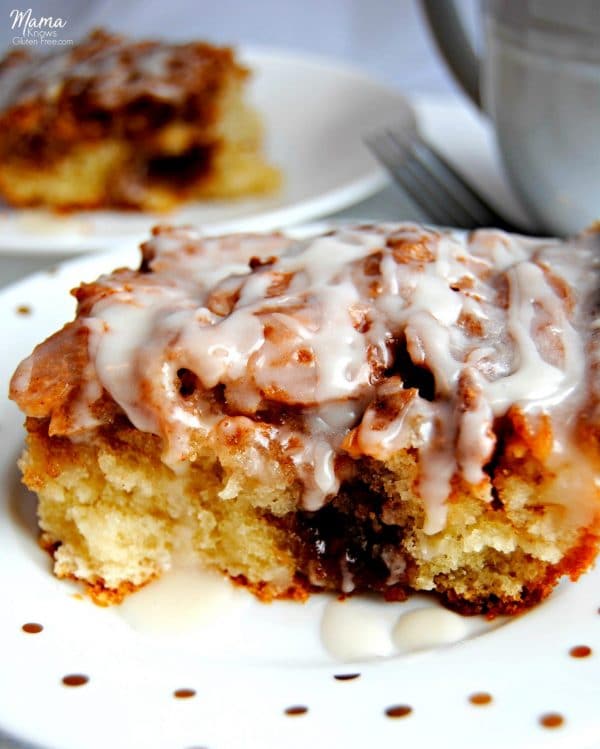 5. Gluten-Free Cinnamon Roll Cake
This is one of my all-time favorite cakes! Gluten-Free Cinnamon Roll Cake has both the texture and the taste of a gooey cinnamon roll.
The cake is super easy to make and can be eaten for breakfast or dessert. It also has a dairy-free option for the recipe.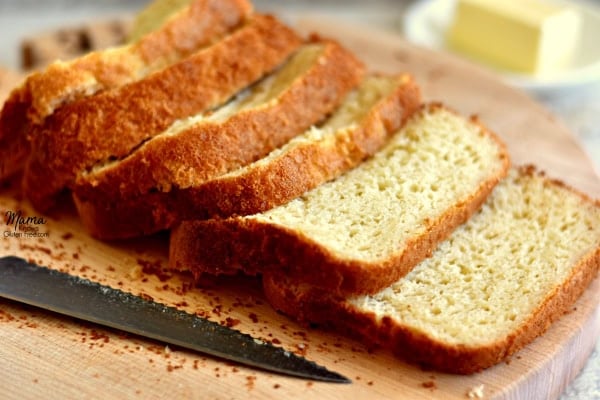 4. Homemade Gluten-Free Bread
One of the things I missed the most when I went gluten-free in 2010 was good bread. That's why I invested in a bread machine with a gluten-free setting and modified a recipe to find the perfect gluten-free bread machine bread recipe for my family.
My Homemade Gluten-Free Bread recipe is easy and makes a soft and tasty homemade bread loaf. The bread is a little on the sweet side, but I prefer soft honey bread. This gluten-free bread recipe also includes a dairy-free option.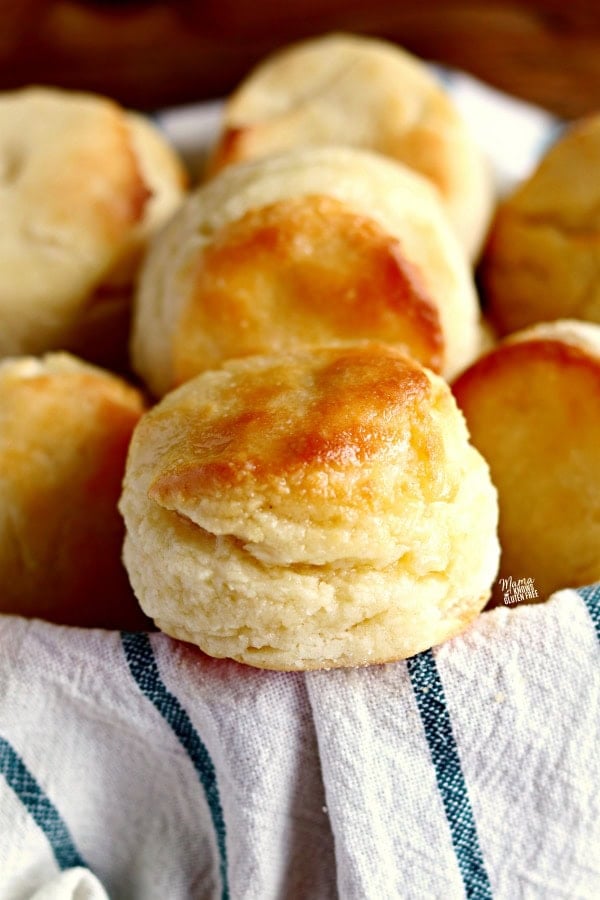 3. Gluten-Free Buttermilk Biscuits
This was such an important recipe for me to share. My husband is from Tenessee and he desperately missed biscuits. This recipe for Gluten-Free Buttermilk Biscuits is the real deal friends!
I promise I know biscuits, and these are true southern style buttermilk biscuits made gluten-free. I included lots of detailed instructions and photos in this recipe, so this can be your no-fail recipe for gluten-free biscuits.
I make these biscuits every week for my family! I have also included a dairy-free and egg-free (Vegan) option for the recipe.
2. Easy Gluten-Free Banana Bread
One of the first recipes I modified when I first went gluten-free was banana bread. My recipe for Easy Gluten-Free Banana Bread is made with only a few simple ingredients and in a few easy steps.
It's the only gluten-free banana bread recipe you'll ever need and is a one-bowl wonder! No mixer required for this super moist gluten-free banana bread. The recipe also has a dairy-free option too.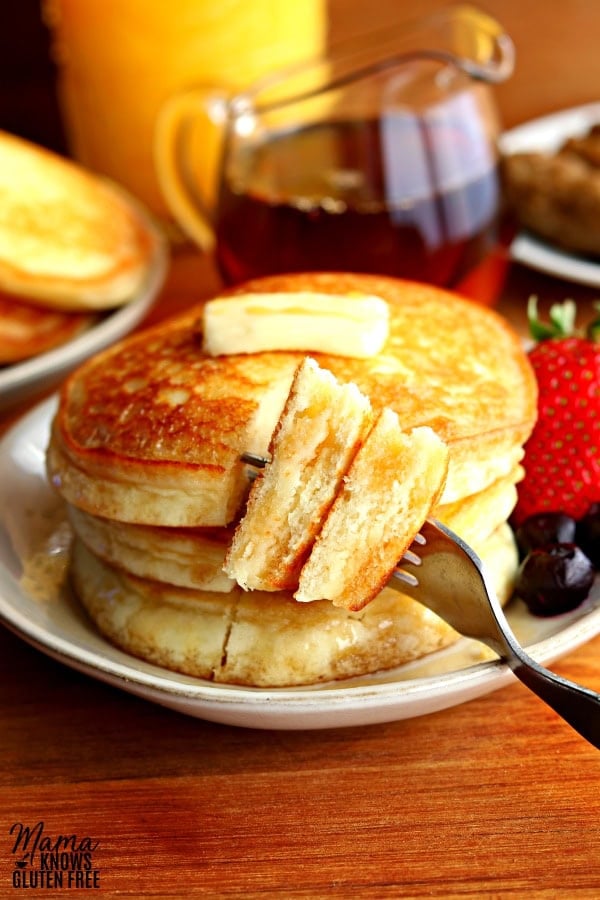 1. Easy Gluten-Free Pancakes
My kids adore pancakes, and I make them for breakfast every week! My recipe for Easy Gluten-Free Pancakes is a tried and true recipe that makes fluffy pancakes every time.
A gluten-free pancake recipe that is made with just a few simple ingredients. The recipe also includes a dairy-free and Vegan option (egg-free).
Gluten-Free Flour
These gluten-free recipes are developed with Pillsbury gluten-free flour. It is a cup-for-cup all-purpose gluten-free rice flour blend and already has the xanthan gum and starches in it.
Most gluten-free all-purpose flour blends have starches and xanthan gum already in them. The xanthan gum helps replace the elasticity and texture of gluten.
So make sure to check the ingredients of your gluten-free flour so as not to add any extra xanthan gum to your flour if it already includes it. If you do, you will get gummy baked goods!
Not all gluten-free flours are created equal. You may experience different baking results depending on the gluten-free flour blend you choose.
These gluten-free dessert recipes with not work with almond, oat, or coconut flour.
Tip For Measuring Gluten-Free Flour
Make sure to use a measuring cup made for dry ingredients (not a pyrex liquid measuring cup) to measure gluten-free flour. I measure the gluten-free flour with the "spoon & level" method.
I use a large spoon to scoop the flour into the measuring cup. Then I use the back of a knife to level off the top of the measuring cup.
Please do not scoop the flour directly out of the bag with your measuring cup. If you do, you could end up with more flour than is called for in the recipe.
Ingredient Substitutions
I have tested these gluten-free recipes with dairy-free ingredient substitutions.
For the milk in the recipes, you can substitute it with unsweetened almond milk or unsweetened coconut milk. I personally use unsweetened almond milk.
For the butter in the recipes you can use dairy-free or vegan butter. I like Smart Balance buttery spread.
Gluten-Free Recipes
This year has been an amazing year for Mama Knows Gluten Free, especially with the release of my first cookbook, and it's all because of you! I started my blog in May of 2017 because I wanted to help others with their gluten-free journey by sharing the gluten-free recipes I make for my family.
Never in a million years did I know that my recipes would be able to reach so many people. I am so thankful that you visit my blog and share my recipes with others.
I am so incredibly blessed by the Mama Knows Gluten Free community. I cherish all of your comments, emails and connecting with you on Facebook and Instagram.
I can't tell you how happy it makes me to see so many of you enjoying the recipes that I share. Thank you for being part of the Mama Knows Gluten Free community! Please let me know if you have any favorite recipes you would like help modifying to be gluten-free.
Wishing you all a Happy New Year!
Let's Connect! You can FOLLOW ME on Facebook, Instagram, Pinterest, or YouTube!